12 Fall Home Maintenance Tasks
The leaves are changing, Halloween decorations are going up, and pumpkin spice is everywhere. It's officially fall! Set aside time between apple and pumpkin picking this autumn to prepare your home for wintery weather. Consider tackling fall preventative maintenance projects now so that you don't have to worry about the possibility of inconvenient, costly disasters later.
To get Long Islanders ready, United Water Restoration Long Island has put together a list of seasonal home maintenance tips. Some of these undertakings can be done by a do-it-yourselfer (if you have the know-how), while several should be handled by a licensed and insured professional.
1. Clean Gutters & Downspouts
Clogged gutters and downspouts can ultimately lead to structural water damage. Clean your home's drainage system by removing leaves, twigs, and other debris so that water runoff from your roof doesn't end up seeping into your walls or basement. Make sure to direct downspouts away from structures and that outdoor drains are clear. One option is to install gutter system guards to keep obstructions from returning. These are ways to help prevent an ice dam from forming.
2. Repair Leaky Pipes
Get your home's plumbing system ready for winter by repairing faucet drips and pipe leaks. A leaking pipe could turn into a burst pipe come wintertime. Look for signs under your kitchen and bathroom sinks and check washing machine and dishwasher hoses. Fix any damaged plumbing parts or fixtures and insulate pipes that need added protection.
3. Service Water Heater
Water heaters can have issues like leaky tanks and not producing enough hot water. If you see rust or corrosion, it could be a sign of a leak or deterioration. If you're experiencing this or other complications, it's time to have your hot water heater inspected and serviced. Hot water heaters should be regularly flushed to prevent the buildup of mineral sediment.
4. Seal Window & Door Drafts
Weatherproof and insulate drafty windows and doors. Sealing windows and door frames will keep your home warmer while lowering energy costs. Replace old or damaged window and door frames because airflow through cracks and crevices can lead to humidity, moisture, and mold growth.
5. Inspect Fireplace & Chimney
Before you cozy up next to the fireplace this winter, schedule an inspection and cleaning. Examine the flue and ensure the damper is properly working. Have a pro sweep and clean the chimney and look around for signs of leaks or damage. Ensure the chimney cap is in place and the masonry is in good shape. Fix any interior and exterior gaps, cracks, or structural issues to both your fireplace and chimney.
6. Replace Smoke/CO2 Alarm Batteries
When the clocks fall back an hour, it's a good reminder to replace the batteries in your home's smoke and carbon monoxide (CO2) detectors. Functioning smoke and CO2 alarms save lives; smoke detectors reduce the risk of dying in a fire by 50%. Twice a year, when Daylight Saving Time starts and ends, swap out those old batteries and make sure your alarms are working. It's also an excellent time to inspect your fire extinguisher(s) and review your household's fire evacuation plan.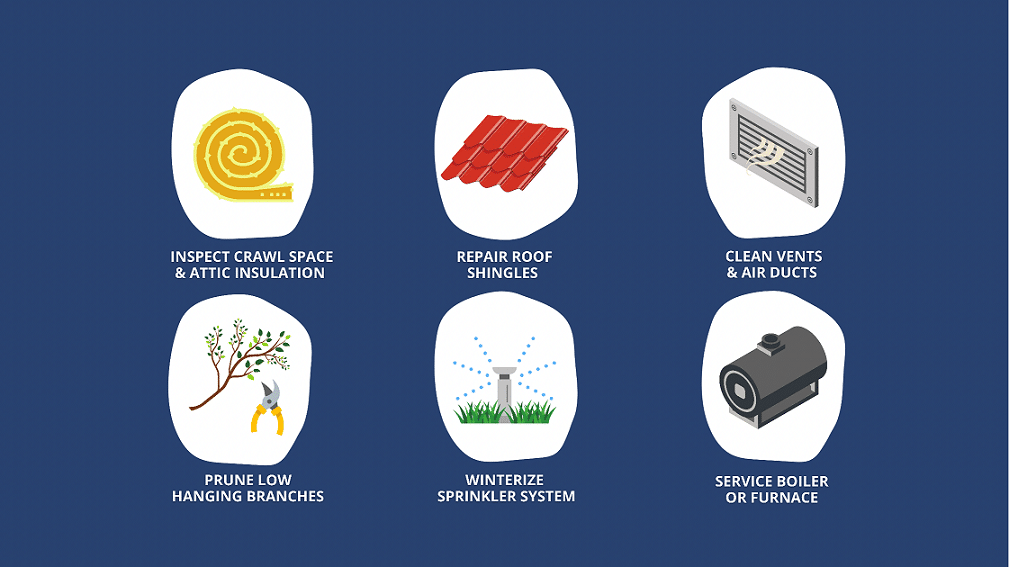 7. Inspect Crawl Space & Attic Insulation
Crawl space and attic condensation is a sign of poor insulation and/or ventilation. Your insulation and wood frames, rafters, and roof sheathing are susceptible to water and mold damage. If you notice water marks, dark stains, or musty odors, there's moisture in your crawl space and/or attic. Your crawl space and attic insulation should be dry and intact. To limit condensation in these spaces, seal air leaks, improve insulation and ventilation, and make sure vents are working correctly.
8. Repair Roof Shingles
Check your entire roof for missing, cracked, or damaged shingles or flashings. Examine for signs of water damage, especially around skylights, pipes, and roof vents. Replace any broken or warped roofing materials and seal gaps and cracks before winter weather arrives. Winter storms can exacerbate the damage and potentially cause a roof leak.
9. Clean Vents & Air Ducts
If you didn't have your ductwork cleaned last spring, then it's time to have it done now. Dirty and dusty air ducts and vents can lead to poor indoor air quality. The contaminants and air pollutants may be harmful to occupants, particularly those with asthma and/or allergies. In addition to breathing cleaner air, a regular HVAC system and dryer vent cleaning will save you energy, increase efficiency, and reduce wear and tear.
10. Prune Low-Hanging Branches
Prune and trim low-hanging overgrown branches on your property. You can remove dead or diseased branches and limbs. Wind, ice, and snow can add weight and weaken branches, causing them to break and fall on your roof, car, and utility lines. People's safety is also at risk.
11. Winterize Sprinkler System
Avoid frozen or burst in-ground irrigation pipes by winterizing your sprinkler system. If you don't properly maintain and blow out your lawn sprinklers, excess water will eventually freeze in the valves, pipes, and other components. This can lead to damage to the system and costly repairs. Shut off inside valves to outside water sources and detach and drain all outdoor hoses.
12. Service Boiler or Furnace
Get your annual boiler service tune-up or furnace inspection to limit winter safety hazards, such as a puffback. Your furnace may require cleaning or repair work. Have your natural gas boiler or furnace checked for gas leaks to prevent carbon monoxide poisoning. Regularly change your furnace filters to deter overheating and maintain performance.

Get it Repaired
If you discover water or mold damage in your Long Island home while going through this fall maintenance checklist or need your air ducts professionally cleaned, give United Water Restoration Long Island a call today, (631) 494-4764. If you require other professional maintenance services to help complete your fall projects, we're happy to recommend one of our many trusted partners, including licensed plumbing and heating, HVAC, and landscaping contractors.