6 Signs of Hardwood Floor Water Damage
Whether your home has suffered a flooding incident or you've moved into a new home with some creaky floorboards, you should recognize the signs of water-damaged hardwood flooring. There are several factors to consider when determining if your damaged wood floors need to be replaced or repaired, such as the amount of water, water source, and how long the water has been saturating the floorboards.
Visible hardwood floor damage will vary. United Water Restoration Long Island gives you six things to look out for to determine if you need your water-damaged hardwood floors properly restored.
1. Staining or Discoloration
You may notice black stain splotches, dark/discolored spots, or possibly faded color on or between planks. Solid hardwood flooring has a grain pattern. Inspect the wood for irregular patterns and unordinary marks you haven't noticed before, which means the damage is already done. The area under the wood should be cleaned and dried, and replace the planks.
2. Soft Floorboards
If your boards bounce a little or feel like they could break, this is a sign of rot due to water damage, and the flooring will need replacing. It could also mean that water has damaged the subflooring as well.
3. Swelling
When hardwood absorbs water, the planks can swell, push against other planks, and cause planks to lift. And if there's still a chance for water to hit the floor, it can get trapped in small cracks and trap moisture underneath the floorboards.
4. Cupping and Buckling Boards
Some planks won't swell, but rather they'll warp and bend, causing an uneven surface. Like swelling, this can also lead to trapped moisture beneath the floorboards.
5. Lifted Nails or Floorboards
You may first notice areas of your hardwood floor where planks have lifted, leaving a lip, or nails have popped up out of the wood. These are both signs of swelling in nearby planks.
6. Mold or Mildew
If you notice black, gray, green, or other discolored spots on or between the planks of your hardwood floor, this could be mold, meaning prolonged water damage.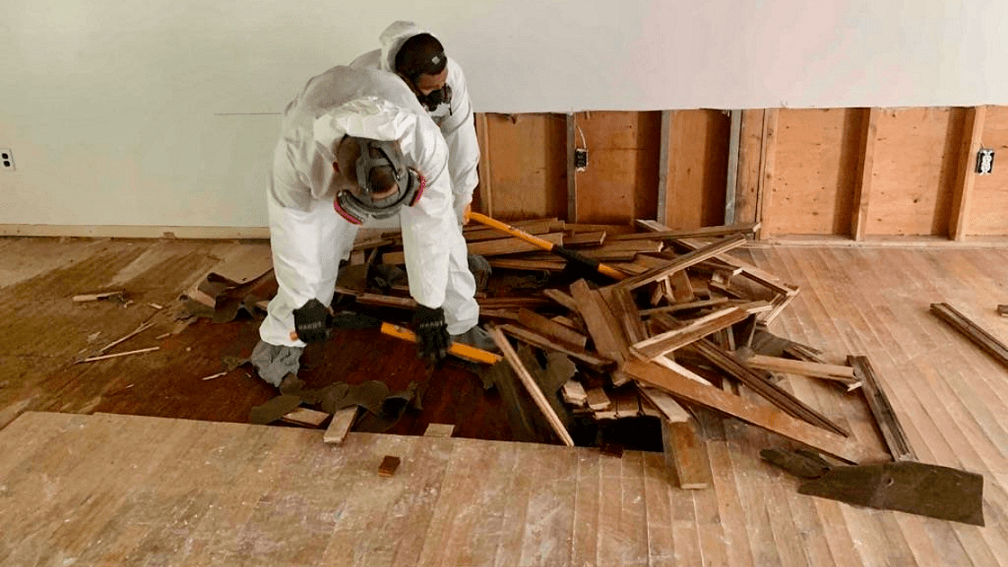 Fixing Hardwood Floor Water Damage on Long Island
Now that you know that your hardwood flooring has water damage, call United at (631) 494-4764 for a free, in-home visual assessment. We'll inspect the damage and create a tailored restoration plan for your space. Then you'll be able to maintain and enjoy the shine and color of your hardwood for years to come.