Long Island Mold Damage Remediation Services
Mold in the home or business is a concern and if it doesn't get treated by a mold damage company like United Water Restoration Long Island, it can be dangerous. Hazardous mold growth can seriously damage your property and prolonged exposure can cause adverse health effects. Inhaling or touching mold spores can be especially harmful to children and adults with respiratory issues or allergies.

Mold can grow on any indoor surface where there is warmth, excess moisture, and minimal airflow. The longer it goes untreated, the larger the problem it can become. It's critical to mitigate and repair mold damage as quickly as possible. If you suspect mold or discover it, immediately contact United, your local Long Island mold damage restoration company.

How to Spot Mold Damage
Mold can sometimes be identified with the naked eye and by the musty odor it gives off. Unfortunately, visible surface molds and those detectable odors can be just the tip of the iceberg. More troubling is the mold you can't see because it's growing behind the drywall, under wallpaper, or beneath your rugs and flooring.
Flooding, leaky roofs, hidden leaks, and plumbing problems can all lead to mold from water. Even small leaks, if ignored, can become an issue and lead to potential mold damage repairs. Crawl spaces, attics, basements, cellars, and underneath sinks are common areas for microbial growth. HVAC air ducts and air conditioner units are also potential hot spots.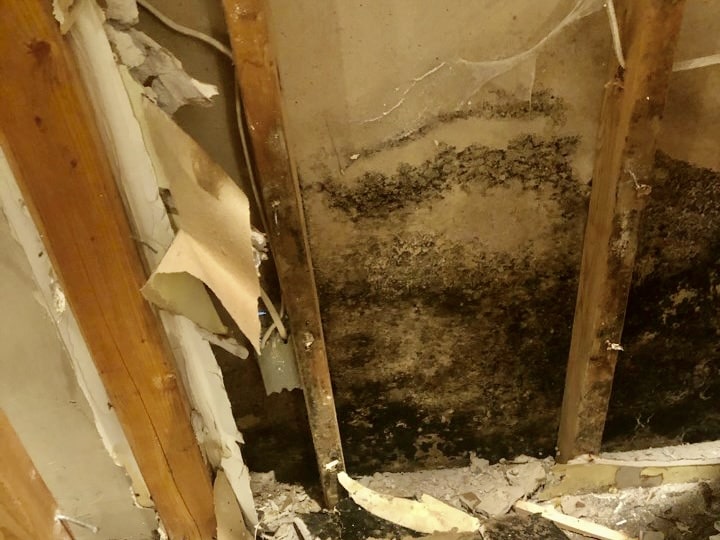 Mold Damage Assessment
United's professional mold abatement technicians are available 24/7 to assess and mitigate residential or commercial mold damages. We are a fully licensed New York State mold damage contractor and all of our field staff is IICRC certified. Our staff has decades of experience, and United has a comprehensive process for repairing mold damage.
How we work:
★ Identify the mold problem and assess the damage.
★ Locate the moisture source.
★ Set containment to prevent further cross-contamination.
★ Filter the air to capture airborne pollutants.
★ Remove the mold infestation and mold-damaged materials.
★ HEPA-vacuum and aggressively clean all surfaces with an antimicrobial solution.
★ Clean and deodorize any affected personal belongings.
We partner with local, independent NYS licensed environmental hygienists to conduct mold sample testing and air quality assessments before and after the mold damage repair process. This ensures the success of any medium or large remediation project.

Is Mold Damage Covered by Insurance?
Very often, mold damage repair cost is covered by insurance but under certain guidelines. United will assist you in identifying your coverage and we coordinate our client's mold damage insurance claims from start to finish.