Winter Holiday Fire Safety Tips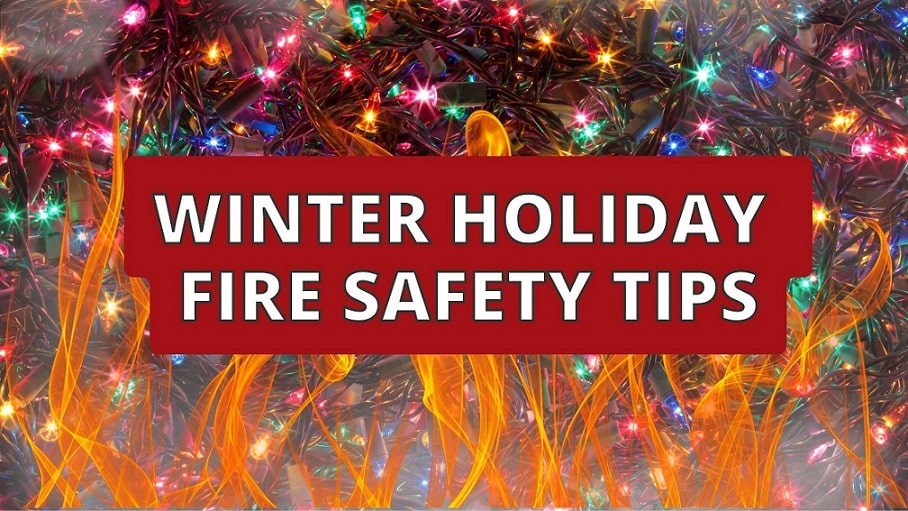 'Tis the season for festivities and cheer. While there is a great deal of focus on making spirits bright, homeowners tend to overlook potential fire hazards. With holiday décor come particular safety concerns – especially when it comes to open flames in your home. United Water Restoration Long Island has essential tips to help you and your family have a joyful (and fire-safe!) holiday season.
Holidays like Christmas and Hanukkah are the most eagerly awaited occasions of the season. Usually, these celebrations include twinkling lights, candles, and fireplaces – all in hopes of creating festive moods for friends and families. But as much as we enjoy having bright displays, United urges you to take basic fire safety precautions when decorating your space to keep yourself – and those closest to you – safe from potential fire and smoke damage this winter.

10 Christmas Tree Fire Safety Tips
A Christmas tree—real or artificial—is a traditional symbol of joy and embodies the spirit of the season. But if not cared for correctly, this beloved holiday tradition can become a dangerous hazard. As lovely as they look in your home, Christmas trees can undoubtedly become a fire hazard if not properly maintained. Here are 10 tips to help you do just that.
1. Choose a tree with fresh, green needles that do not fall off when touched and keep it well-watered and inspect it regularly to ensure it is not drying out
2. Before placing a live tree in the stand, cut 2 inches from the base of the trunk to help water intake.
3. Assure your tree is at least three feet away from any heat source, such as a fireplace, space heater, radiator, or vent.
4. Use low-wattage LED lights and check for frayed wires, broken sockets, and loose connections before plugging them in.
5. Avoid overloading electrical outlets, and do not use extension cords.
6. Never put electrical lights on a metal tree.
7. Always turn the tree lights off when you leave the house or go to sleep.
8. Never use lit candles or other open flames to decorate your Christmas tree.
9. Christmas trees should not block exits.
10. Dispose of real trees once the needles droop and become brittle because this indicates the tree has dried out and is no longer safe in your home.
10 Menorah Fire Safety Tips
Hanukkah is the Jewish Festival of Lights and is celebrated by lighting an eight-stemmed candelabrum, called a menorah, for eight nights in a row. The glowing light gives off a warm radiance as friends and families play dreidel and eat potato latkes. But what provides a traditional holiday ambiance can also be dangerous. Here are 10 home fire prevention tips for a safer Hanukkah.
1. Keep your menorah away from flammable materials, such as decorations, curtains, tablecloths, cabinets, and furnishings.
2. Place it on a stable, sturdy, non-flammable surface that is out of reach of children and pets.
3. Use the right size candles and securely place them in their holders.
4. Keep a watchful eye on all lit candles, ensuring they are extinguished after use.
5. Do not leave a lit menorah unattended.
6. Store matches and lighters that are used to light candles out of the reach of children.
7. A menorah should only be made of non-flammable material; do not use a handmade (arts and crafts) menorah.
8. Never walk around with lit candles or carry a menorah from room to room.
9. Consider using a battery-operated or USB-powered Menorah and flameless candles for children.
10. If using oil, use small amounts as an excess can cause overheating, and oils tend to burn longer than candles.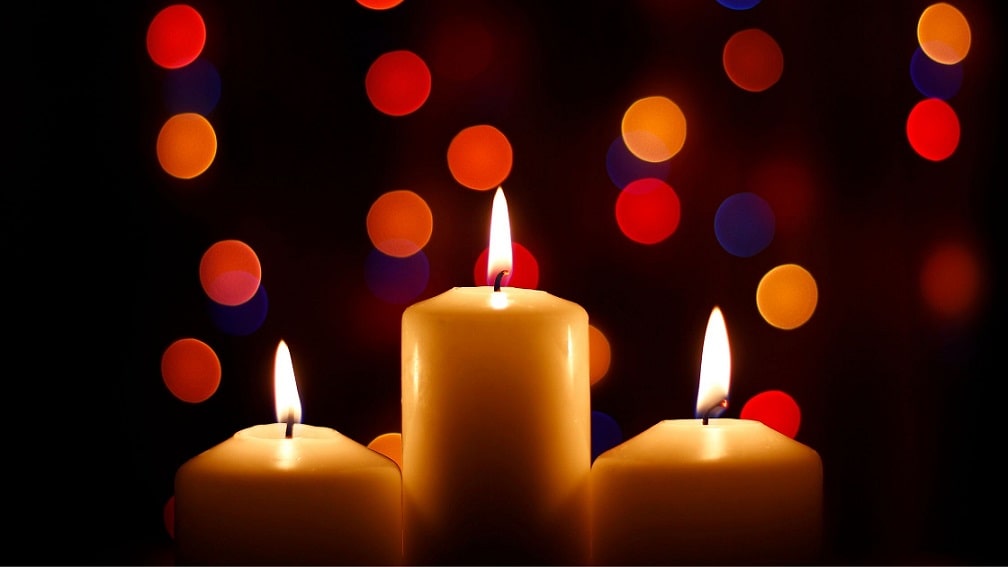 10 Candle Fire Safety Tips
"It's the Most Wonderful Time of the Year" is a popular Christmas song about get-togethers and spending time with loved ones. Yet a careless mistake such as leaving a burning candle unattended can quickly turn a joyous event into an unexpected tragedy. According to the U.S. Fire Administration, the top three days of the year for home candle fires are Christmas, New Year's Day, and New Year's Eve. While candles add to the winter holiday vibe, safety must always come first. Here are 10 tips to consider when using lit candles, not just during the holidays but year-round.
1. Keep candles at least 12 inches away from combustible materials such as decorations, curtains, bedding, and furniture.
2. Always use a sturdy candleholder that will not tip over and do not place flaming candles on windowsills.
3. Place candles on a level, heat-resistant surface away from drafts and flammable items.
4. Trim candle wicks to 1/4 inch before burning and keep the wax clear of debris.
5. Never leave blazing candles unattended; always extinguish them when leaving the room or going to bed (be sure they are completely out).
6. Never touch or move a candle when it is lit or while the wax is liquefied.
7. Keep candles out of reach of children and pets.
8. Discontinue using candles when half-inch of the wax remains in the holder or two inches when using a pillar candle.
9. Candles should not burn for longer than four hours; allow them to cool for two hours before relighting.
10. Use battery-powered flameless candles instead of regular candles whenever possible.
10 Fireplace Fire Safety Tips
With winter holiday festivities come warm fires burning in the hearth. While they are cozy companions during chilly weather, fireplaces can be dangerous if safety measures are not taken. To keep things merry and bright this season, here are 10 tips to avoid fireplace disasters while enjoying all your favorite holiday traditions.
1. Get your fireplace and chimney inspected by a certified professional annually to ensure safe operation.
2. Inspect and clean your chimney at least once a year to prevent the build-up of creosote and other debris.
3. Make sure the damper or flue is open before starting a fire.
4. Always use a spark guard to prevent hot sparks from escaping the fireplace and igniting nearby combustibles.
5. Place a fireproof rug or mat in front of the fireplace to protect your flooring.
6. Never use gasoline, kerosene, or other flammable liquids to start or accelerate a fire.
7. Keep combustible materials away from the fireplace.
8. Put fireplace tools and accessories, as well as lighters and matches, out of reach of children.
9. Never leave a fire unattended; check it is completely extinguished before leaving the room.
10. Install a smoke detector and carbon monoxide detector in the same room as your fireplace, and if you already do, test it to confirm it is working.
10 General Fire Safety Tips
While decking the halls and lighting religious candles are hallmarks of the winter holidays, they also present fire risks. In addition to the above, learn what other preparedness tips you can take to prevent home fires during the holidays.
1. Only use flame-retardant or not flammable decorations.
2. Check your holiday lights for damaged wires, excessive wear, loose bulb connections, and cracked bulbs.
3. Do not overload electrical sockets; use a ground fault circuit interrupter (GFCI) to prevent electric shocks.
4. Keep decorations, fabrics, and wrapping paper away from heat sources and open flames.
5. Stay in the kitchen when you are cooking.
6. Always have access to a fire extinguisher or other emergency equipment.
7. Test that your smoke and carbon monoxide detectors are functioning.
8. Talk about fire safety with your children and keep all matches and lighters out of their reach.
9. Review and practice your home emergency escape plan with your family and share it with guests at your holiday gatherings.
10. If a fire occurs in your home, get out (close all doors when leaving), stay outside, and call for help.
Christmas trees, menorahs, candles, and fireplaces are all part of a festive holiday season. However, these elements can also be a source of danger in their own right. Enjoy your holiday celebrations with peace of mind by following United's recommended tips. Have a happy and fire-safe time!