United Sends Hurricane Ian Disaster Relief Team to Daytona Beach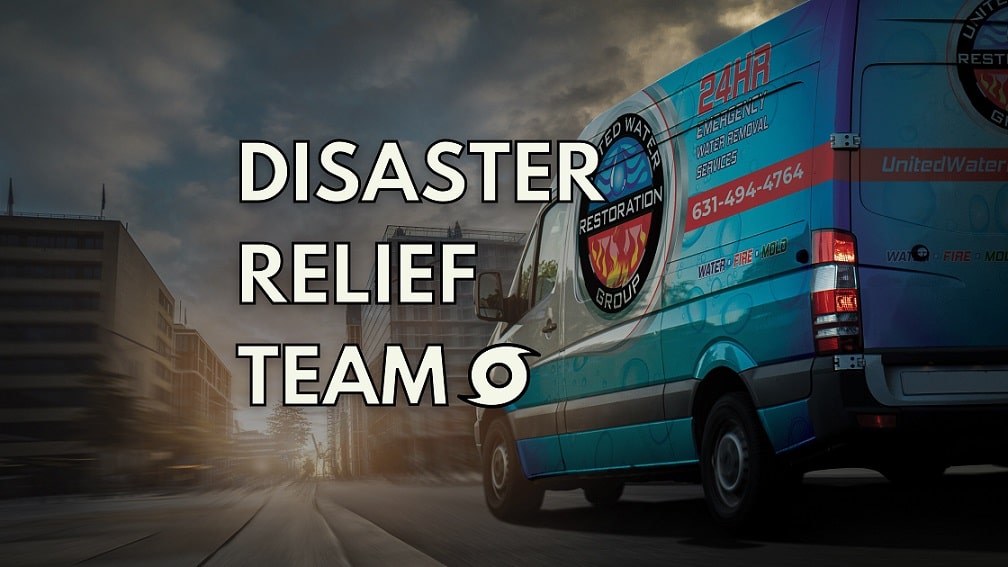 In response to Hurricane Ian, United Water Restoration Long Island mobilized a team of disaster relief specialists to the Daytona Beach, FL, area. The storm slammed the city with widespread flooding and damaging wind. Homes sustained significant damage and our team addressed a number of priority needs to help restore normalcy to the affected area. In all, we helped 30 homeowners in 30 days! Read all about their recovery efforts and team bonding here.
---
Nov. 15, 2022: 30 for 30! We did 30 mitigation projects in 30 days—making a difference, helping homeowners, and making new friends along the way.

---
Nov. 6, 2022: Our work here is done. We saw some incredible destruction and also some inspiring stories of resilience. The trucks are loaded up with our equipment and tools and we're ready for the journey back home. See you soon, Long Island!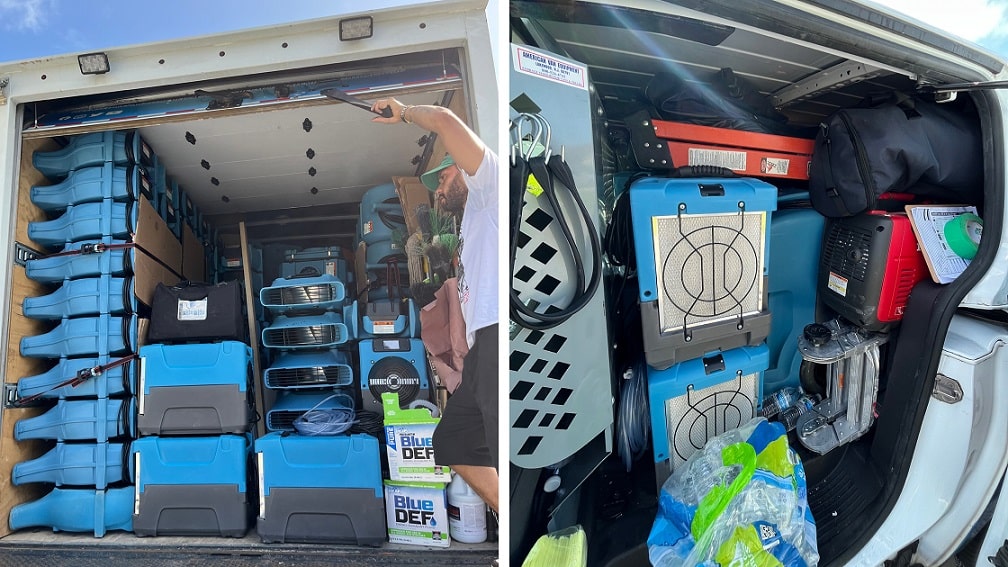 Our trucks are packed and we're ready to roll!
---
Nov. 2, 2022: Just days before we head back home. We're determined to reach our goal of helping 30 homeowners in 30 days. We've seen the unbelievable courage and strength of the people we're helping as they face the daunting task of rebuilding their homes. Through our work, we hope to make their lives a little easier and show them that they are not alone in this journey.
From clearing away debris to drying out spaces, we've been doing everything we can to mitigate further damage.
---
Oct. 30, 2022: We received a postcard from our team in Daytona Beach!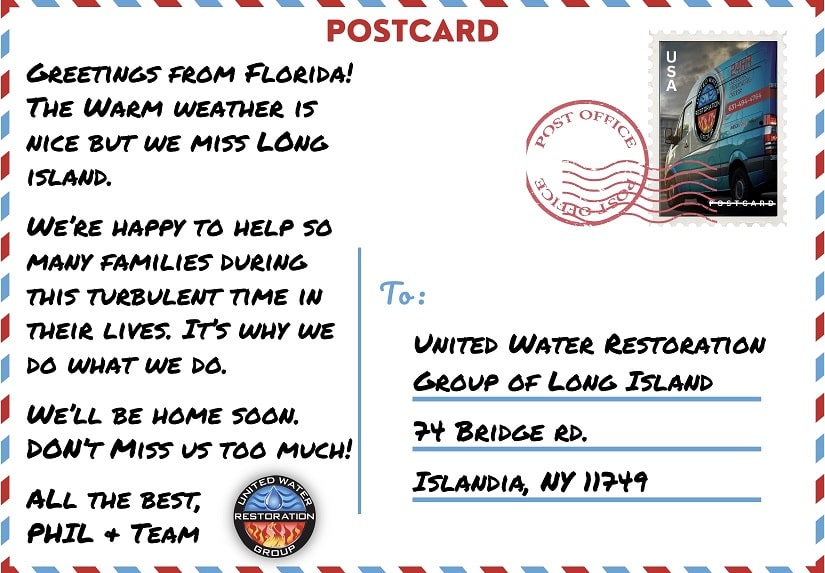 "Greetings from Florida! The warm weather is nice but we miss Long Island. We're happy to help so many families during this turbulent time in their lives. It's why we do what we do. We'll be home soon. Don't miss us too much! All the best, Phil + Team."
---
Oct. 27, 2022: There have been sunnier days in Daytona Beach. Locals are calling this the worst flood damage they've ever seen hit the area. But the people in these neighborhoods are resilient. And our Disaster Relief Team is helping those who need it most right now.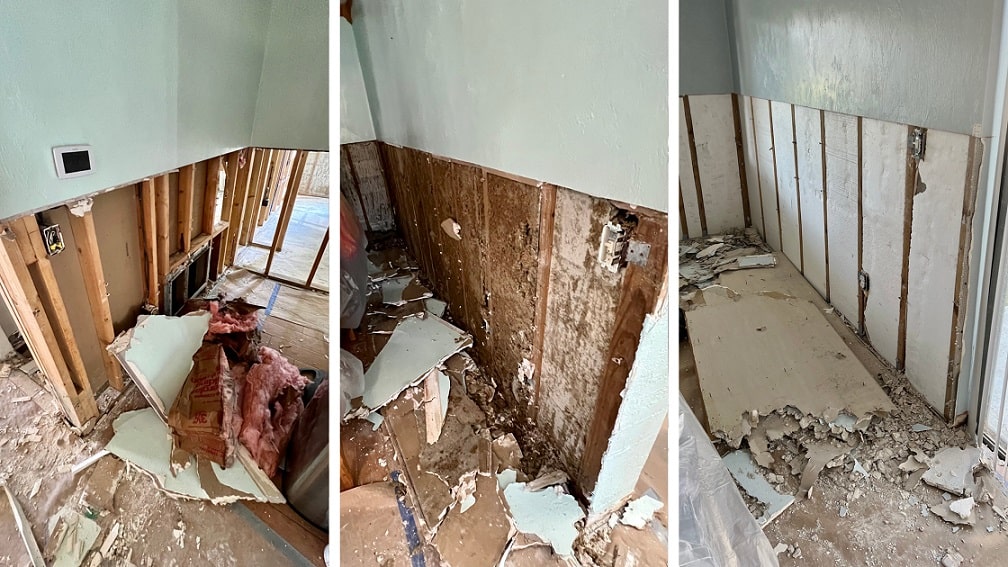 Demolition of flood-damaged walls.
Our mitigation work continues. From mess to success.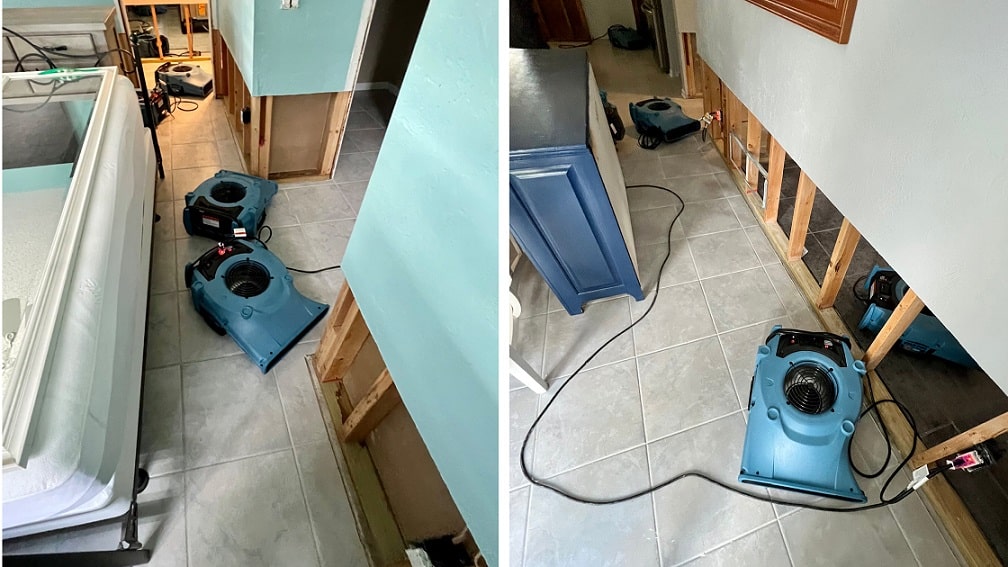 Removal of baseboards, flood cuts, and structural drying of building materials.
---
Oct. 24, 2022: The best teams are those where each member brings something unique to the table and everyone is working towards a common goal. There's a sense of camaraderie and teamwork that can't be duplicated. When you're part of an amazing team, it feels like anything is possible. You push each other to be better and strive to achieve great things together.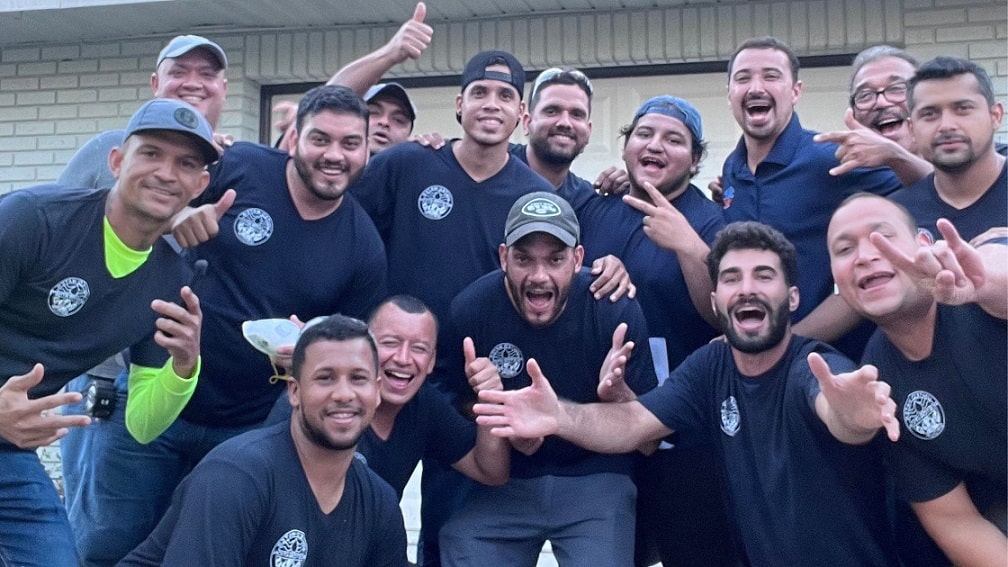 Just a group of great people who decided to take a picture together!
---
Oct. 21, 2022: All work and no play makes United a dull Disaster Relief Team. The crew had a fun-filled evening at Dave & Busters. They played games, relaxed, and shared some laughs. It was a great team bonding experience with a little bit of friendly competition at the air hockey table. There's nothing like working with a great team!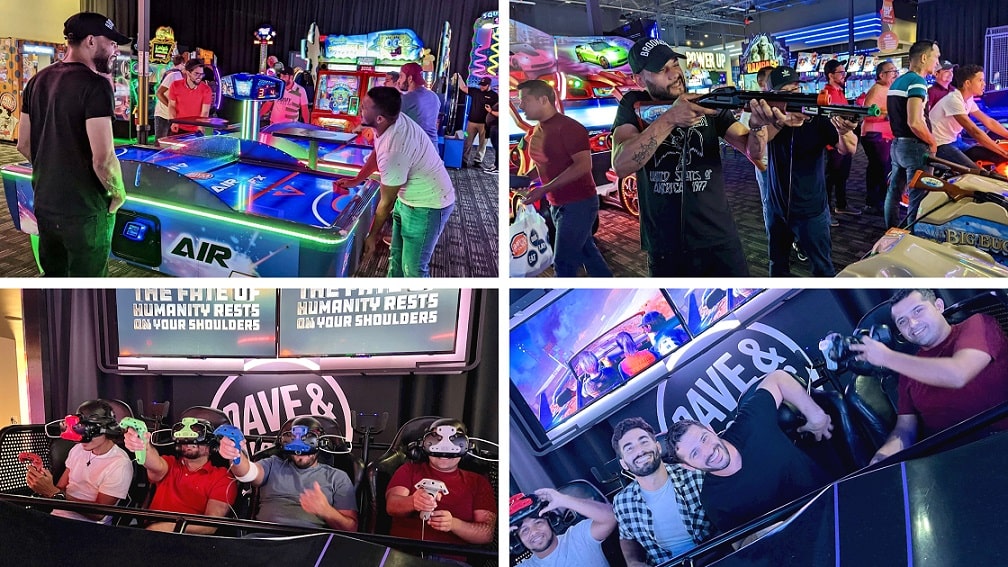 Fun and games at Dave & Busters.
---
Oct. 18, 2022: Check out some photos of our Disaster Relief Team's hard work. Their efforts are making a big difference in the lives of those affected by Hurricane Ian.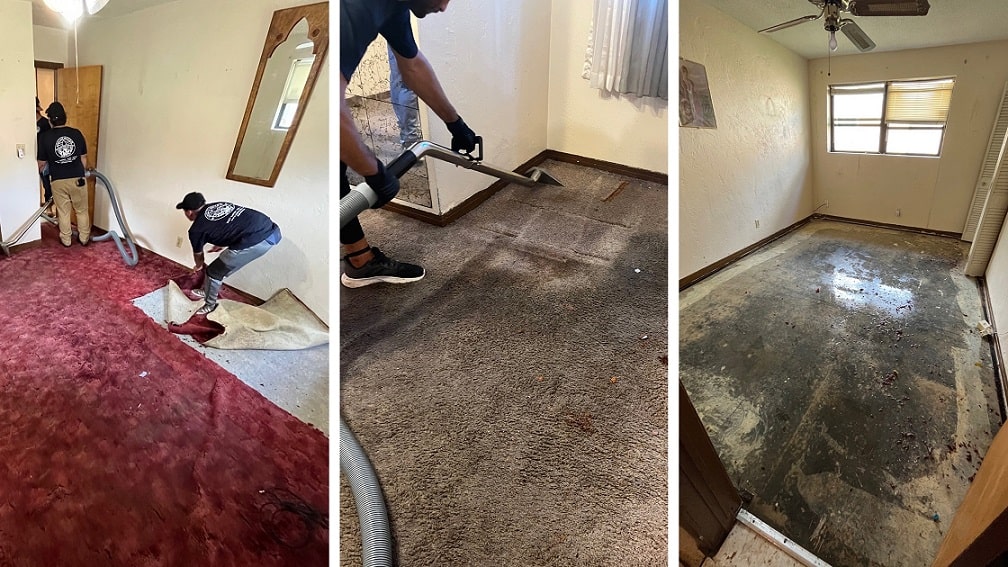 Damaged carpets, flooring, and walls from Hurricane Ian flooding.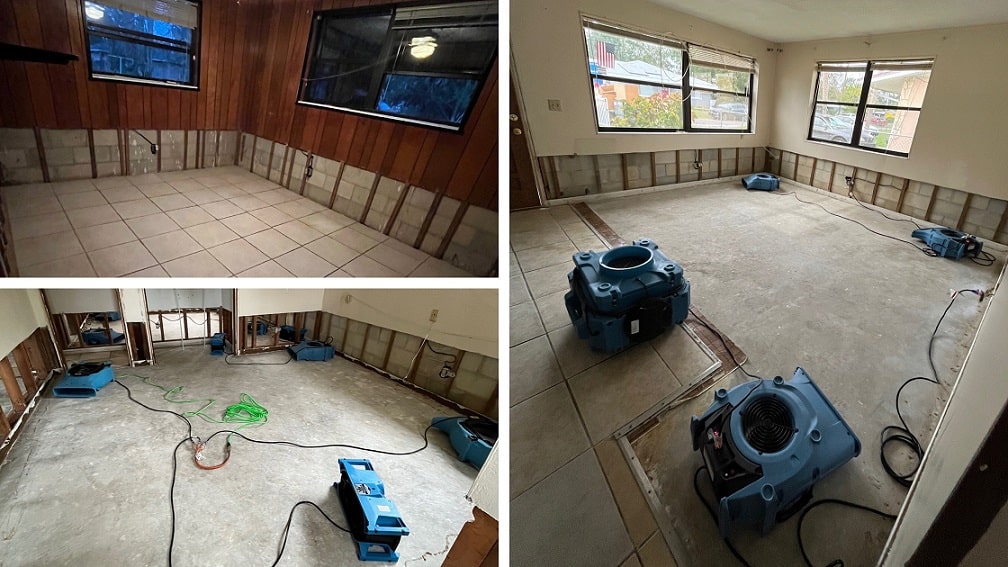 We removed flood-damaged walls and are using our structural drying equipment to evaporate any remaining moisture.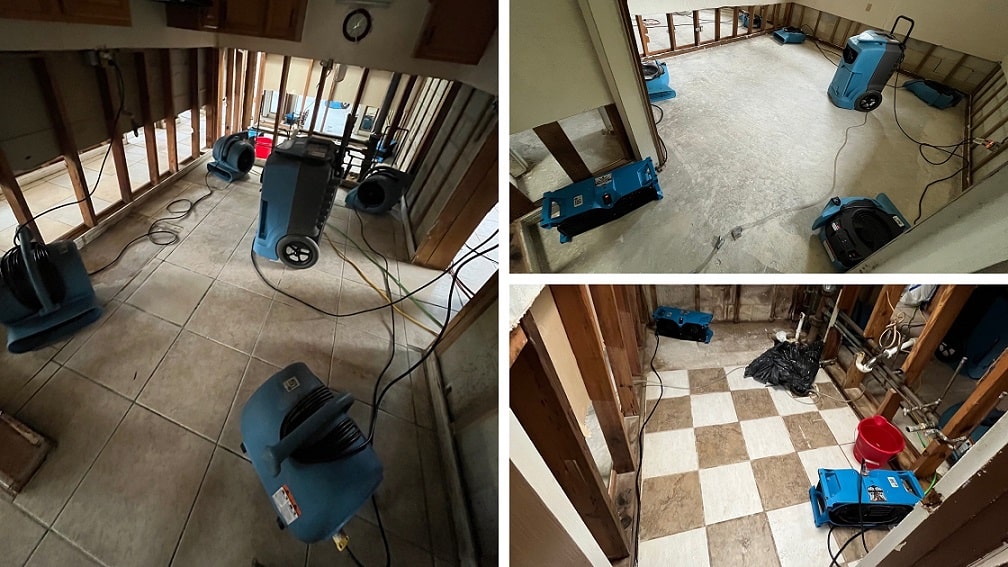 Flood cuts and structural drying and dehumidification prevent secondary damage such as mold growth.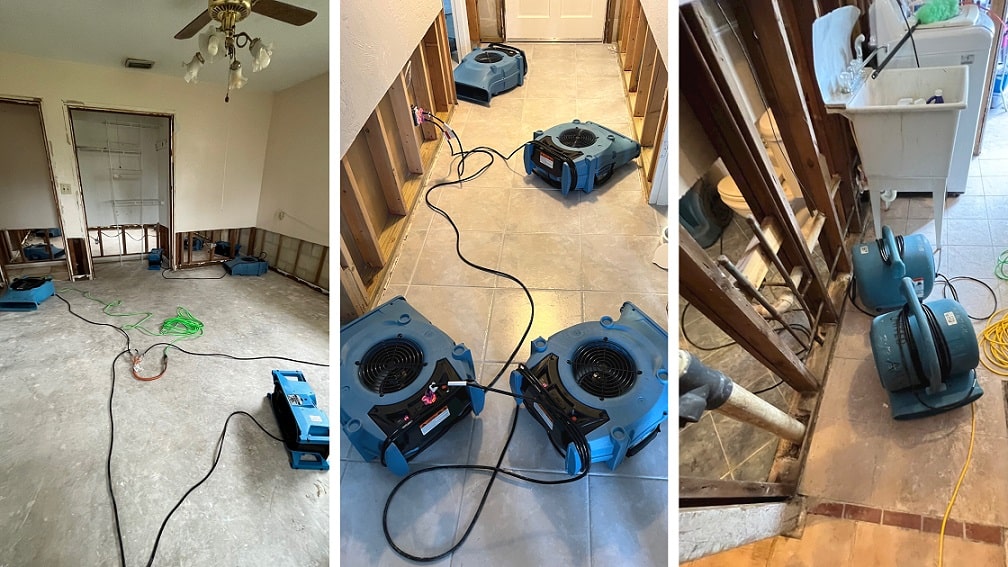 Cutting and removing sections of drywall and structural drying are part of the mitigation process.
---
Oct. 15, 2022: We produced this Reel video and shared it on social media. Benny and Juan from United's Disaster Relief Team arrive in the Daytona Beach, FL, area with our box truck and much-needed equipment. Watch until the end to see the mess caused by Hurricane Ian.

---
Oct. 10, 2022: The power of a hurricane is immense, and the destruction they cause leave communities devastated. Hurricane Ian's strong winds, heavy rains, and flooding put homes in the Port Orange, FL, and Daytona Beach area to the ultimate test. Upon arriving and from our initial assessment, we see many houses have first-floor flood damage. Homeowners' furniture and appliances were destroyed and walls and flooring suffered extensive damage.
"The mission here is recovery." – Benny T.
---
Oct. 8, 2022: Welcome to Florida! No time to get comfortable, we have a lot of work ahead of us.
Project management
Water extraction
Clean-up
Structural drying
Demolition
Clearing debris
By plane and by road, our Disaster Relief Team arrives in the Daytona Beach area.
---
Oct. 6, 2022: United Water Restoration LI has deployed a Disaster Relief Team to Daytona Beach, FL, to provide assistance with Hurricane Ian mitigation efforts and help the community recover from this devastating storm. High winds and flooding damaged many homes and businesses. United's team is responding to the immediate need for damage assessments, clean-up, and repairs. We will continue to update you from Daytona Beach.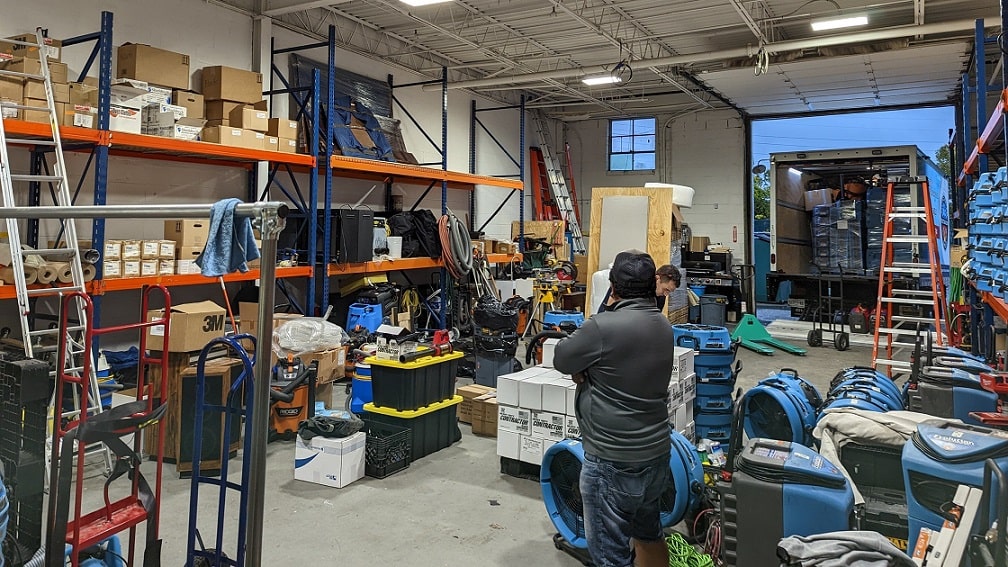 In our Islandia, NY, warehouse getting our equipment ready for deployment.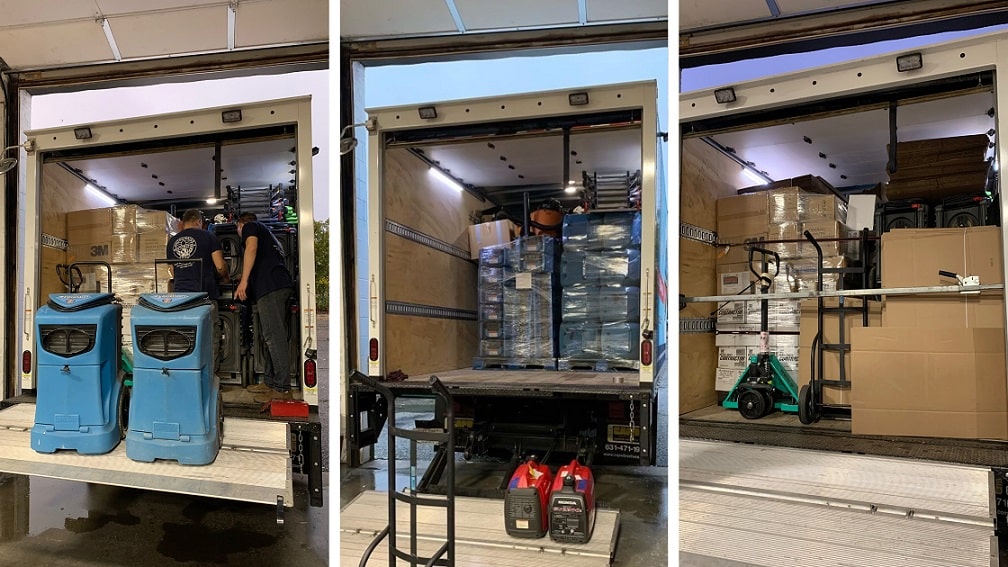 Our crew loading up United's box truck with necessary equipment.