October is Fire Prevention Month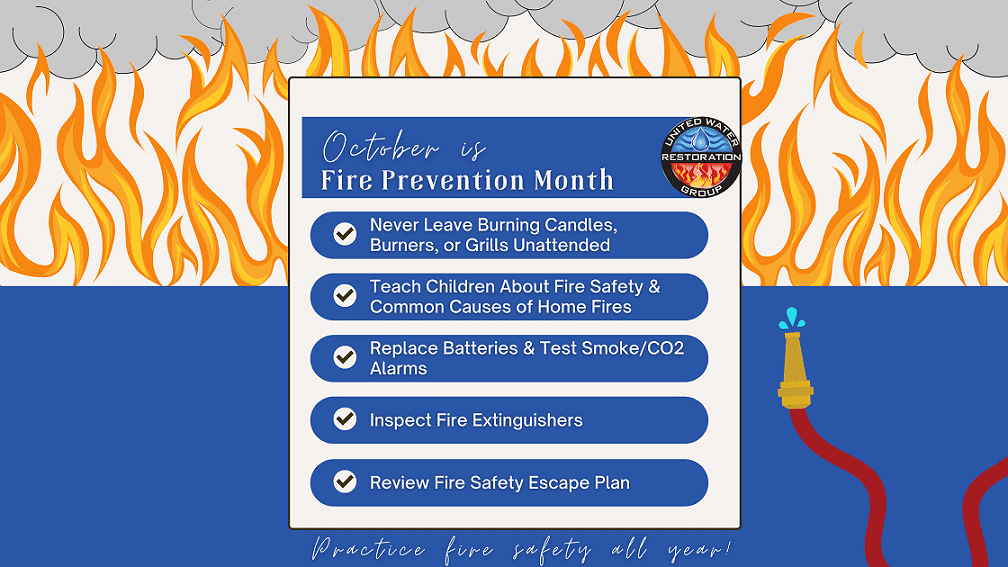 October marks National Fire Prevention Month and it's an ideal time to reaffirm the importance of fire safety precautions and preventive measures. Knowledge is the best defense in a fire emergency. Throughout the month, firehouses across Long Island are hosting fire preparedness events and activities. Also, to raise awareness, firefighters are visiting schools to educate young children about fire safety and prevention methods. Fire departments and United Water Restoration Long Island have common goals, reducing risks and hazards. Here are some helpful reminders for Fire Prevention Month.
✓ Never Leave Burning Candles, Burners, or Grills Unattended
Walking away from a burning candle, stovetop, cooktop, or grill can have disastrous consequences. If you must leave, blow out candles and turn off cooking appliances. Keep flames away from anything combustible, such as curtains, tablecloths, and oven mitts. Sixty percent of home candle fires start when things ignite when too close to a flame. Avoid using candles in the bedroom because more than 1/3 of home candle fires start there. Unattended cooking is the leading cause of kitchen fires.
✓ Teach Children About Fire Safety & Common Causes of Home Fires
Help keep children safe from fires and burns by teaching them never to play with matches, lighters, or candles. Talk to them about the dangers of playing with fire, what to do when they hear a smoke alarm, and practicing their escape. There are educational resources such as coloring books and fun activities to introduce them to fire safety and prevention topics. Protect children by not leaving matches or lighters within reach and keeping them 3 feet away from anything that gets hot, like space heaters and stovetops.
✓ Replace Batteries & Test Smoke and Carbon Monoxide Alarms
Change the batteries in your smoke and CO2 detectors every six months or upgrade to a 10-year sealed battery alarm. Test your alarms often. There should be a detector on every floor, in every bedroom, and at least 10 feet away from cooking appliances. Know the sounds the devices make.
✓ Inspect Fire Extinguishers
Make sure your home and workplace have working fire extinguishers. Keep one on every floor and in common areas, like your kitchen and basement. If you need to use yours, approach the fire cautiously and remember the PASS method (Pull, Aim, Squeeze, and Sweep).
Pull the pin to unlock the extinguisher.
Aim at the base of the fire, from a safe distance.
Squeeze the lever to extinguish.
Sweep side-to-side until flames are out.
✓ Review Fire Safety Escape Plan
It's a great time to discuss home fire safety and prevention tips with your family. You may only have two minutes to escape a fire. If you don't already have one, create a home fire action plan and practice your emergency fire escape route at least twice a year.
We thank our brave firefighters and first responders for risking their lives to protect us every day.