Mold Removal vs. Mold Remediation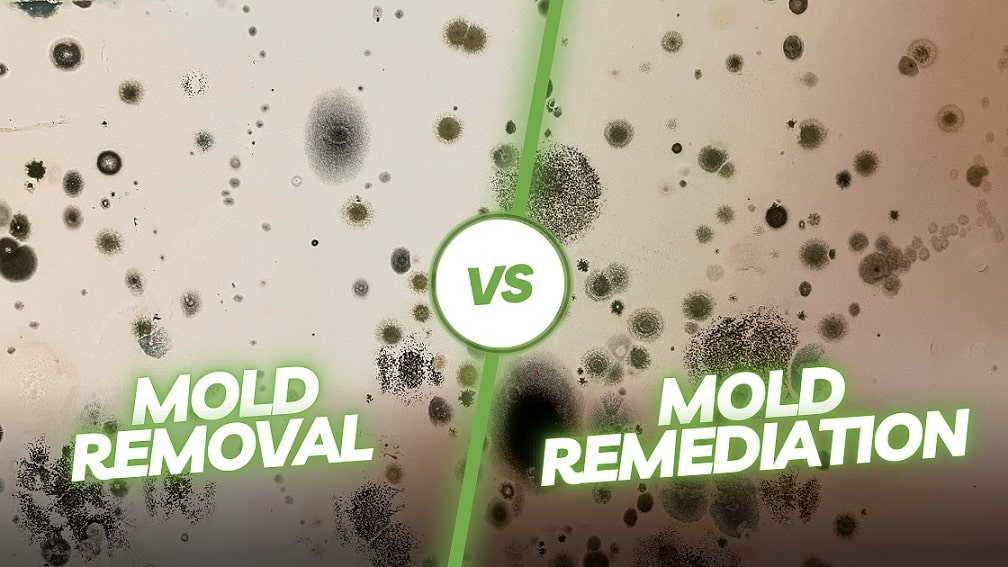 There's a strange musty smell coming from the basement. You investigate further and see dark spots on the walls and ceiling. At first, you think it's dirt, but as you look closer, it appears to be mold. And you want it gone immediately!
When it comes to porous (water-absorbing) materials, scrubbing with household cleaners or using bleach to kill mold is not the answer. You need to call the pros. As a NYS licensed mold remediation company, United Water Restoration Long Island understands the urgency of addressing mold growth. Not only is it unsightly, but it is a potential health hazard.
In our experience, when dealing with mold damage, two terms are often used: "mold removal" and "mold remediation." Although these terms often are used interchangeably, there are differences between the two.

Mold Removal
The restoration industry references mold damage removal when physically eradicating visible microbial growth from surfaces in a home or business. This process typically involves using specialized tools and techniques to remove mold spores from the affected areas. While it can effectively remove what can be seen by the naked eye, it may not address the underlying cause of mold growth.
Even after abating mold, it may be likely to return if the moisture and/or poor ventilation source is not remediated. Simply put, it may not be enough to prevent future mold outbreaks.

Mold Remediation
Mold remediation is the process of not only removing visible mold growth but also addressing the underlying cause. It involves identifying and fixing the source of the moisture, such as a leaky roof, faulty plumbing, or high humidity levels. Once the moisture and/or humidity are reduced, the affected area is cleaned and sanitized to prevent mold from growing in the future.
Remediation also involves testing the air quality to determine if there is any hidden mold growth or airborne fungal spores. And if found, these spaces become part of the containment area. Another aspect is cleaning contents and possessions and disposing of non-salvageable items.
Key Differences
Mold removal may solve the immediate issue but is not a long-term solution for property owners. If the mold-affected area totals more than ten square feet, NYS guidelines require hiring a licensed mold assessor and remediation contractor. So while you may be searching online for "mold removal companies near me," you are most likely looking for a more comprehensive approach. Removal is only part of the multi-step remediation plan. Professional mold remediation companies like United have the expertise, equipment, and experience to control mold damage to building materials, furnishings, and other contaminated contents.
Now that you know the differences between mold removal and remediation, you can make the best decision for your house or building.

Why Choose United?
Have peace of mind knowing that United is IICRC certified and registered with the NYS Department of Labor, which regulates mold remediation contractors. Every mold cleanup job we perform follows these steps: assessment, remediation, and clearance. We also provide repair and reconstruction services, restoring residential and commercial properties to pre-loss condition or better.
If you discover mold in your Long Island property (or have concerns about the possible presence of mold), it's crucial to take swift action to prevent it from spreading and posing health risks. Call United at (631) 494-4764 today to schedule a free on-site mold inspection and damage assessment.