Best of LI 2023: United Wins Best Restoration Company for Second Year in a Row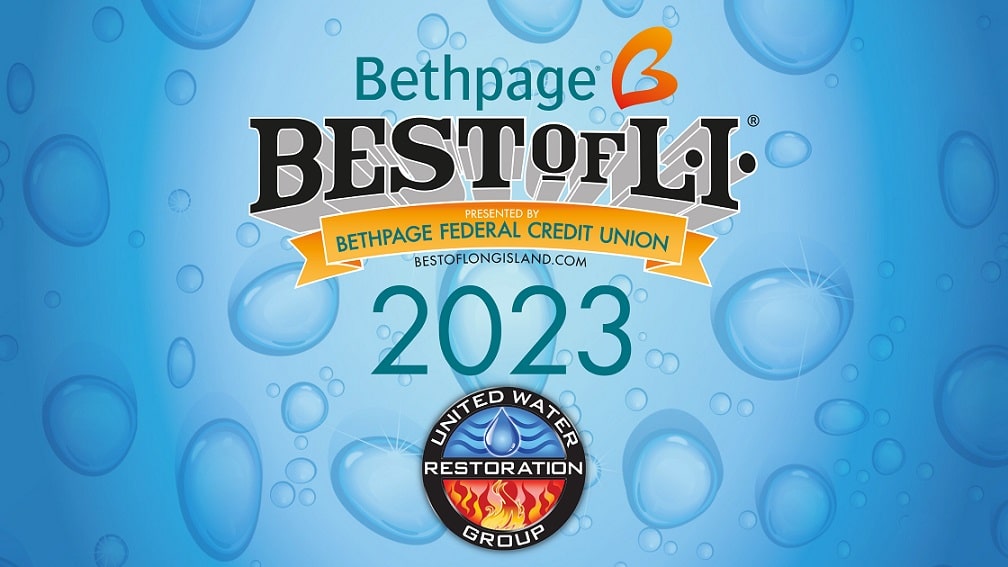 The ballots have been counted, the results are in, and the people have spoken. We did it again, Long Island! For the second year in a row, United Water Restoration Long Island has won the Best Restoration Specialist award in the Bethpage Federal Credit Union Best of LI competition. To be recognized for excellence in the property damage restoration industry for the second straight year is an honor.
Winning in 2022 was remarkable, but being awarded #1 restoration contractor back-to-back is a tremendous accomplishment that reflects our service, expertise, dedication, and hard work. But United could not have won Best of LI a second time without the support and trust of the local community. We express our sincere gratitude to all those who took the time to vote for us; some of you voted once daily! Thank you for making this award possible.
Award-Winning Team
We are so proud of our work and what we have accomplished. From everyone here, thank you for your continued support and for helping UWRG LI become the two-time best restoration company on Long Island. The Best of Long Island award reflects our commitment to providing the highest quality services to our clients and the best customer experience in the industry. And we are grateful for the opportunity to serve you.
By providing top-notch solutions tailored to every one of our client's unique needs, our award-winning team ensures each project is given personalized attention and care. It's a collective effort of a group of dedicated individuals working towards a common goal. This level of professionalism helps us stand out in a crowded industry, and it is something that we take great pride in. Winning Best of LI two years in a row sets the bar higher and motivates us to strive for even greater heights.
United Water Restoration LI Owner and CEO Phil DePaul says, "Winning Best of Long Island is a reminder of the power of teamwork and the incredible things that can be accomplished when we come together to pursue a shared vision."
Phil adds: "Looking forward to 2023, our expectations have raised. The bar has been raised. We're now the two-time defending champions…and that means we got to bring our best if we want to still be considered the best next year."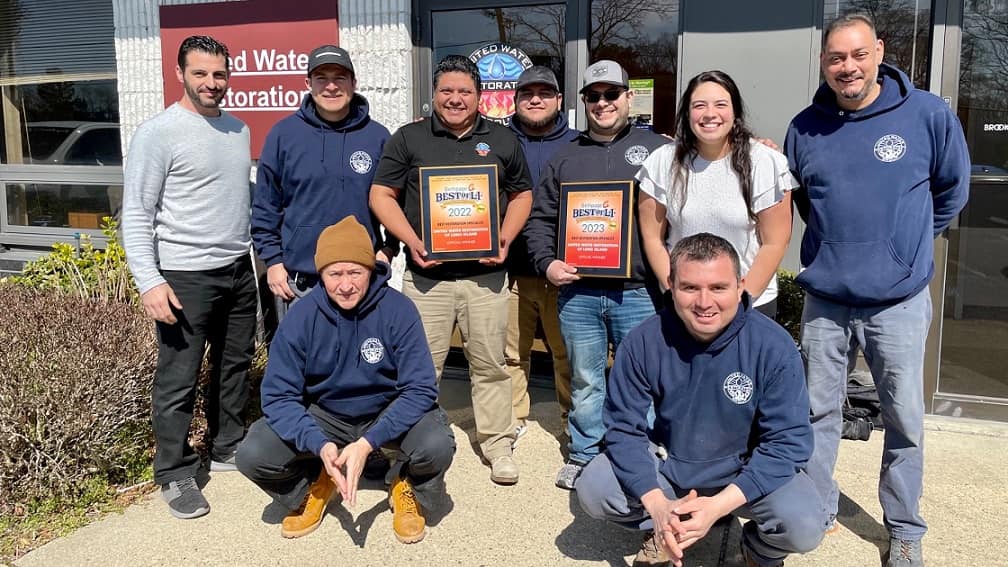 Long Island Wants the Best, They Turn to the Best
Recipients of this award can take pride in knowing that they have earned the respect and admiration of their peers and clients/customers. Winning an award based on voting demonstrates the trust and loyalty that Long Islanders have for our brands, and it's a clear indicator of the quality of services Best of LI winners provide. That said, congratulations to all!
In a letter printed in this year's Official Winners Guide, the Best of Long Island team says, "Our program has set the standard of excellence in every corner of Nassau and Suffolk counties — from Atlantic Beach to Aquebogue, Westbury to Montauk, and every point in between."
The team adds, "The Bethpage Best of Long Island competition is more than just bragging rights. It's a mutual display of support Long Islanders have for each other. Bethpage Best of Long Island taps into the love each Long Islander feels for their special corner of the world and channels it into something that brings out the best in every participant."

About Best of Long Island 2023
More than a million votes were cast throughout the 18th annual Long Island business awards program, which is the largest local contest of its kind celebrating hundreds of winners in dozens of categories. Bethpage Best of LI 2023 winners were notified by email in early January, but the best businesses, people, and places were officially announced on Feb. 28, 2023. The 75-day voting period was from Oct. 1 to Dec. 15, 2022, and allowed one vote per day in categories ranging from arts and entertainment, food and drink, home and garden, and health and wellness. United bested 14 local competitors in the restoration contractor category.
Bethpage Best of LI features the winners of every category online and prints an Official Bethpage Best of LI 2023 Winners Guide that is widely distributed across Long Island.
Read a digital copy of the Official Bethpage Best of LI 2023 Winners Guide.
2024 Nominations
The nomination period is now open for Best of LI 2024. Nominate your favorite business, person, or place until Aug. 31, 2023. This year's winners are automatically included on the 2024 ballot. That means we'll once again be able to defend our title! Voting begins on Oct. 1, 2023. Let's keep on voting and keep on winning!
We hope you join United Water Restoration in celebrating this exciting achievement. Best of LI is a prestigious honor, and we are thrilled to have won it for the second straight year. Here is to many more years of success!