Prepare Your Long Island Home for Hurricane Season
The official start of the Atlantic hurricane season begins on June 1 and runs through November 30. For the seventh consecutive year, the National Oceanic and Atmospheric Administration predict an above-normal hurricane season. If Long Island residents have learned two things, storms are unpredictable, and remnants of hurricanes can be destructive. While we cannot stop tropical cyclones from occurring, we can take steps to prepare for them.
Completing your spring home maintenance checklist will prepare your property for severe weather damage. United Water Restoration Long Island recommends taking preventive measures now. Do not wait until a hurricane starts moving up the East Coast to get ready. Also, this includes having a plan for you and your family if you live in a high-risk area. Your safety is more important than safeguarding your house.
Know your risk.
Protect your home against physical damage.
Stay informed about weather alerts, disaster announcements, and other important information.
Have an evacuation plan.
Put together an emergency go-kit.
Review your homeowner insurance policy (most standard homeowners insurance policies cover damage but do not cover flooding from storms).
Consider flood insurance.
Hurricane Intensity
Tropical cyclones are classified by their maximum wind speeds. Winds less than 39 mph are tropical depressions, winds 39-73 mph are tropical storms, and 74 mph or more are considered hurricane-strength winds. The Saffir-Simpson Hurricane Wind Scale rates the level of intensity and estimates potential property damage on a scale of one to five. It's only based on the hurricane's maximum sustained wind speed and doesn't take into account other potential impacts such as storm surge flooding, strong winds, heavy rainfall, flash flooding, and tornadoes. Hurricanes are categorized as follows:
Category 1: Winds of 74-95 mph – Well-constructed frame homes could have damage to the roof, shingles, vinyl siding, and gutters.
Category 2: Winds of 96-110 mph – Same as above, and near-total power loss is expected with outages that could last from several days to weeks.
Category 3: Winds of 111-129 mph – Devastating damage will occur. Electricity and water will be unavailable for several days to weeks.
Category 4: 130-156 mph – Catastrophic damage will occur. Power outages will last weeks to possibly months. Most of the area will be uninhabitable for weeks or months.
Category 5: 157 mph or higher – Catastrophic damage will occur. Same as above with increased severity.

Damage from a hurricane will ultimately depend on the strength of the storm when it makes landfall. The NOAA's Atlantic Oceanographic and Meteorological Laboratory notes, "there is very little association between the physical size of a hurricane and its intensity." In other words, size does not matter. A tropical storm can cause as much damage as a major hurricane. We found that out the hard way in 2021 when remnants of Hurricane Ida devastated the tri-state area. Our team members spent weeks triaging the effects of extracting storm water damage, particularly along the North Shore of Nassau County, in Long Island towns such as Manhasset, Port Washington, and Glen Cove. Suffolk County areas like Huntington and Setauket were also hit hard by downed trees and flooded basements.
Advisory. Watch. Warning. What Do They Mean?
The National Weather Service issues alerts to identify adverse weather conditions. Stay informed, listen closely to instructions, and know the differences between tropical system advisories, watches, and warnings. In general terms, an advisory notifies the public when hazardous weather is likely, a watch suggests severe weather is possible, while a warning indicates it is occurring or imminent in your area.
Warnings require immediate action. Follow evacuation orders if given. Water is often the greatest threat to life and property and floods can occur with little notice. While they vary in meaning, take all tropical weather alerts seriously.
Advisory: Authorities are monitoring an active tropical cyclone and follow updates concerning location, intensity and movement, and precautions to be taken.
Tropical Storm Watch: Tropical cyclone winds reach 39-73 mph and may affect the specified area within 48 hours.
Tropical Storm Warning: A tropical cyclone with 39-73 mph sustained winds expected within 36 hours or less.
Hurricane Watch: Hurricane conditions (74 mph or more) are favorable in the specified area within 48 hours.
Hurricane Warning: Hurricane-force winds (74 mph or more) expected in 36 hours.
Storm Surge Watch: Possible life-threatening inundation from rising water moving inland; usually within 48 hours in advance, in connection with a tropical, subtropical, or post-tropical storm.
Storm Surge Warning: Danger of life-threatening inundation from rising water moving inland; usually within 36 hours in advance, in connection with a tropical, subtropical, or post-tropical storm.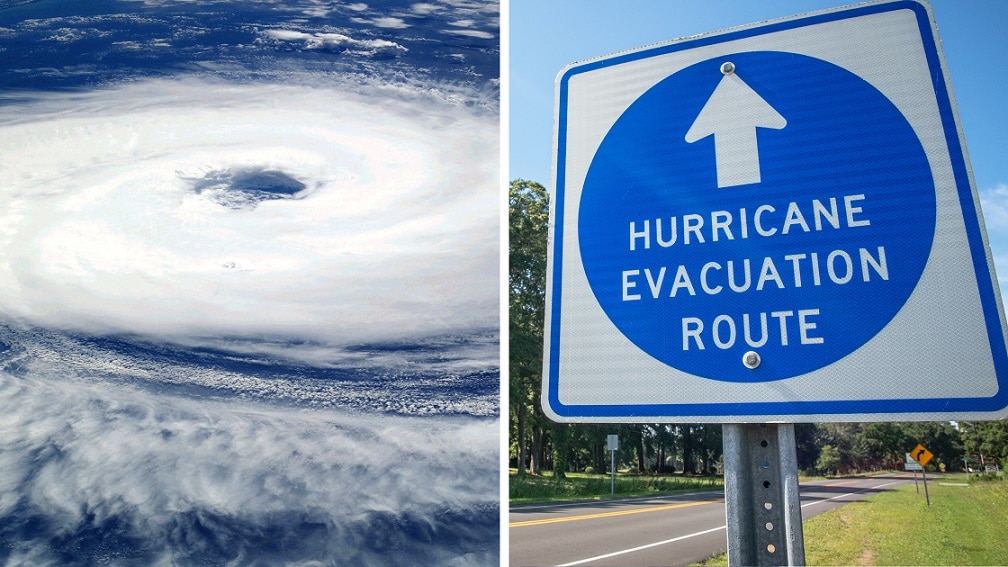 Hurricane Preparedness
Tropical storms and hurricanes can pose a threat to life and property. Take proactive steps to get your property, and most importantly, your family, ready for hazards associated with tropical systems. Ahead of the storm:
Clean gutter system, downspouts, and drains.
Trim trees and shrubs.
Check for leaks. Seal gaps in windows, doors, chimney flashings, or missing roof shingles.
Inspect the foundation for problems.
Secure or remove loose outdoor objects.
Fill gas tanks and move vehicles to a safe area.
Document valuables and take photos or videos for insurance purposes.
Be prepared for power outages with generators and battery backups.
Gather emergency supplies.
Board up windows or use shutters, if necessary, and stay away from openings during the storm.
Create an emergency plan ahead of time. Local officials may ask you to evacuate your home. Therefore, it's a good idea to know your hurricane evacuation zone and route. Make arrangements to stay with a family member or friend outside the zone or locate an emergency shelter and evacuation center. If you evacuate, turn off all utilities in your residence, bring an emergency go-kit, stick to evacuation routes, and don't drive through flooded areas. Each person should have their own five-day emergency evacuation to-go kit. It should include:
Changes in clothing and sturdy shoes
Non-perishable food and a gallon of water
Personal items, such as eyeglasses, cash, and prescriptions
Battery-operated flashlight and radio, and extra batteries
Fully-charged smartphone and chargers
Important documents in a waterproof container, such as drivers' licenses, wills, birth/marriage certificates, and insurance policies
Home inventory list
Blankets and pillows
First-aid kit
Special items for infants, the elderly, family members with special needs, or pets
Flood Insurance
Most homeowners insurance policies do not cover flood damage. Flooding can be a costly event. One inch of floodwater can easily cause more than $25,000 in damage. Purchasing flood insurance will help protect your structure and belongings and help you recover quicker. There are two types of coverage – building and contents. From our experience, most Long Islanders do not have adequate insurance protection to cover losses directly caused by flooding from outside the home. Long Island cities like Long Beach, Freeport, and Babylon were affected greatly by Superstorm Sandy, but many homeowners were (luckily) required to carry flood insurance. Most central and North Shore Long Islanders do not. We recommend contacting your insurance broker or agent to educate yourself before it's too late.
For questions and answers about flood insurance in New York, visit the Department of Environmental Conservation. The National Flood Insurance Program (NFIP), managed by the Federal Emergency Management Agency (FEMA), provides resources and enables property owners in low- and high-risk areas to purchase federally backed flood insurance. On average, 40% of NFIP's flood insurance claims occur outside high-risk flood areas.
Tropical Storm and Hurricane Damage
Unfortunately, doing all you can to protect your home against damage isn't always enough. Let's be hopeful for a quiet hurricane season. Nevertheless, save United's contact information, (631) 494-4764, just in case you need any of our essential services during storm season. We are available 24/7/365 to assist Long Island homeowners in the aftermath of a storm. Unmitigated water damage leads to mold growth. Our emergency storm damage services include:
Flood water extraction
Tree removal
Roof tarps
Board ups
Cleanup, repairs, and reconstruction
Contents cleanouts and junk removal
Insurance claim management
Our goal is to restore properties to pre-loss condition or better. United's knowledgeable team of professionals manages your insurance claim(s) on your behalf. As the Best of LI 2023: United Wins Best Restoration Company for Second Year in a Row #1 restoration company on Long Island, we have the manpower, equipment, and know-how to get the job done right!
Read: UWRG Long Island Sends Hurricane Ian Disaster Relief Team to Daytona Beach
Resources:
Visit Ready.gov for preparedness tips.
Explore NOAA.gov for hurricane preparedness tips.