Emergency Oil Spill Remediation for Home and Business
Indoor heating oil spills happen. Most often it is a result of a tank overfill or from a leaky oil tank. An oil spill in the home or business can result in contamination, hazardous odors, and property damage. It's important to clean up spilled heating oil quickly because the longer a spill sits, the more likely it will absorb into concrete, wood, beams, and cracks in the floor. According to New York State, the longer a petroleum spill sits, the more expensive it is to clean up.
Spilled fuel oils can emit dangerous vapors. The short-term negative effects of inhaling heating oil fumes include headaches, nausea, and dizziness. Long-term exposure can cause high blood pressure, kidney damage, and other adverse health effects. Avoid skin contact and if there is a strong smell of oil, ventilate the area by opening windows and doors that don't lead to unaffected areas.
Residential or commercial heating fuel spills may need professional help from an emergency oil spill cleanup company like United Water Restoration Long Island. No matter how small or big your indoor fuel oil spill is, our trained and experienced team will manage the entire job from start to finish and ensure you are being compliant with all state and local regulations (if required).
Common reasons for United's emergency spill and hazardous substance remediation:
★ Heating oil tank overfill.
★ Heating oil tank leak.
★ Fuel delivery line failure.
★ Damaged oil tank system parts or equipment.
★ Spilled motor oil in the garage.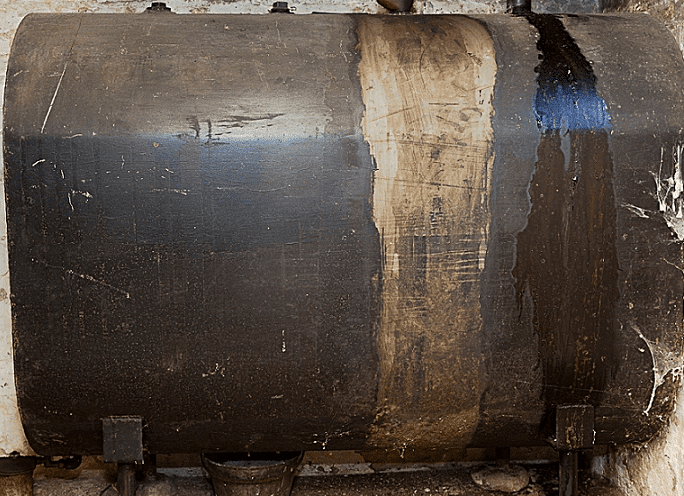 Oil Spill Cleanup Costs
If there is an insurance claim involved, United will handle the entire process for you. Speak to United before contacting your insurance company to determine if the damages are covered by your insurance policy. If the company that provides your oil is the reason you have a spill, they often will be responsible for the cost of indoor oil spill cleanup. United can help you determine who is responsible and if you should go through your insurance or the fuel provider's insurance.
If you smell or see standing oil, and you're concerned about the possible health effects, immediately give United a call at (631) 494-4764.